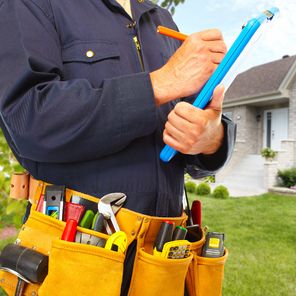 Beginning with waterproofing at roof and foundation, and continuing to outdated electrical service, here are the major home upkeep projects you shouldn't delay. Once the leaves fall, call your gutter company to get those gutters cleaned and inspected. Skip this step now, and come springtime you could have a hefty restore invoice. If not, you would end up paying for costly waterproofing remediation—some of the avoidable, yet costliest repairs to any home.
Preserve your heating system: Examine your air filters about as soon as a month, as some want changing that often. Ask Jim's Constructing Upkeep to service your property time and time again. Ideally, you should clean the gutters and downspouts within the fall and spring, and test them month-to-month.
Gutters and downspouts clogged with leaves and different debris could cause the rainwater to overflow — and that can lead costly repairs. Verify smoke alarms and carbon monoxide detectors: Preventing fire damage is much easier with a working smoke detector, but we all need a reminder to check our alarms.
Test for frayed cords and wires; restore or exchange as needed. DIY: Seize a ladder and shimmy up to the roof to inspect your gutters and drains, taking care … Read More